I was reminded of a funny story today when I saw that a friend (Michele Mallory-Davidson) had made some icing laced with Lavender.
Back Story First
Many years ago I heard a story about a young actress who was a terrible cook. She decided to have a dinner party and made a meatloaf to serve and after baking, left the meatloaf sitting on the kitchen table while she greeted her guests. When she returned to the kitchen, she found that her cat had eaten some of the meatloaf, but she decided to serve it because she didn't have anything else to serve as the main course.
Guests complimented her on the meatloaf and she did not mention the cat. Later that evening she opened the kitchen door to call the cat, but found it lying dead on the step. She frantically began calling all her dinner guests to tell them that her cat was dead after eating the meatloaf. Each friend then dashed to the local hospital ER to have their stomach pumped.
The next morning, her neighbor came to visit and apologize for running over her cat.
Now for the rest of the story
You may ask yourself what this story has to do with Lavender….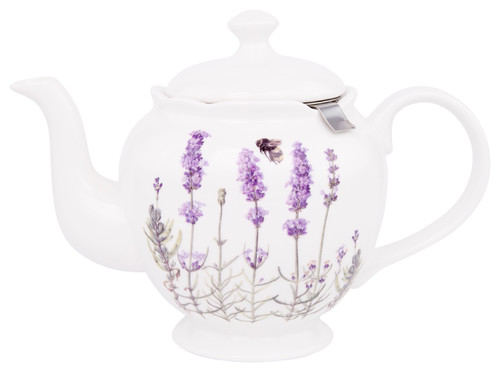 Well, a few years ago I hosted a Lavender Tea. The invitation requested that all guests were to wear something lavender. My mother was among the guests.
I set the Tea table with a lavender cloth and napkins and a large vase filled with lavender colored flowers. I made shortbread cookies and cake with bits of lavender thrown in and covered with lavender laced icing. I brewed lavender tea, AND I taste-tested everything to make sure it was suitable for guests.
Lavender Tea Party Catastrophe
My guests and I had a wonderful time. Everyone departed feeling well sated. 
Later that evening while readying for bed, my legs felt itchy. In the morning when I climbed out of bed, my joints were so stiff, I could not bend without terrible pain. As I hobbled across the bedroom carpet Randy asked, "Is that how you're going to walk as an old woman?" "Shut-up! I can barely move!!" I snapped.
I slowly made my way to the phone and called all my guests (including my mother!), NONE of whom I could reach and thus leading me to believe that I'd KILLED them all!!! I was hysterical while I wildly tried to explain to Randy that I was a "Death by Tea murderess!" He just laughed.
I then made a call to Ask-A-Nurse and explained my symptoms along with mentioning the Lavender Tea Party, ending with, "Lavender is not toxic, but I think I've killed all my Tea guests!"
To which she replied, "Call your doctor."
I called my mother AGAIN and to my great relief, she answered the phone. I explained my concern and through peals of laughter, she assured me she was in fine health! Then said, "Call your doctor."
The rest of the story is that it turned out I had 'over-lavendered' myself with the taste-testing! My doctor gave me TWO antihistamine injections and I was right as rain about two hours later.
Happily, all my guests were ALIVE and the upshot of this story is that while it saddens my heart, forevermore I swear to only give 'themed' Teas in name only!